August 27th, 2010 |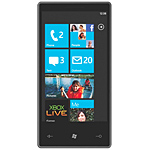 It has been 4 years since the first iPhone and 2 years since Android was released.  Android is now on many devices and the iPhone is in it's third generation.  With both iPhone and Android already eroding Blackberry and Nokia's marketshare, is it too late for the Windows Phone?
Microsoft is going to spend billions to make sure that doesn't happen.  That is about half a billion to market it, while they are spending about a billion to develop it.
Can they come from behind?
Microsoft just killed off their Kin phone, after selling less than 10,000, they took if off the shelves in just a few weeks.  That was a couple hundred million dollars wasted.
Yet if you look at the Xbox, Microsoft came out of nowhere and rocketed past rival Sony in just their 2nd version by creating a better product with better online technology, quicker.
If I use the Xbox as a basis for a guess, Windows Phone 7 and $500 billion dollars will give them a significant market share.  Windows Phone 7 must make serious inroads, so that the next version and leapfrog the iPhone and Android.
Tags:
Android
,
iphone
,
windows phone