August 4th, 2010 |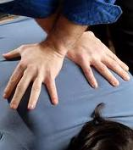 With some persistence and application of effective marketing tools a Chiropractic practice can develop some pretty amazing chiropractic advertising. As new patients are always needed to building a profitable practice, it is necessary for any Chiropractor to explore what an online marketing specialist can offer them in terms of profitable advertising and marketing programs.
How to get new patients is an undying problem for today's Chiropractor. Any reasonably priced online marketing plan and program that attract chiropractic new patients is tantamount in importance to having reliable, productive employees and developing efficient billing procedures. As you know, new patients are the lifeblood of a thriving and profitable chiropractic practice.
In the past, a Chiropractor would possibly build up a mailing list and mail a quarterly newsletter. But today with powerful internet marketing tools and social media, today's newsletter is the blog and the new mailing list is Facebook and LinkedIn. Moreover, a website that blogs have been found to drive in 55% more traffic than a site that does not. Additionally, blogs can be easily distributed to your Facebook fan page for your chiropractic practice. Blogging and social media allows you to also tap the power of marketing with video by installing your video right within your blog post.
We have worked with many Doctors with their online marketing, such as Dr. Vinod Somareddy in NY, Dr. Ken Erickson of Irvine, CA and Dr. Paul Nelson of Fullerton, CA and Dr. Candice McCowin in Costa Mesa, CA.
In this video, Dr. Eric Huntington, D.C. shares with us a great vision on how Chiropractor's should be seen in our society and operate within it to make a better, healthier world for all communities. Dr. Eric Huntington is co-owner of the Chiropractic Business Academy, formally know as The Prescott Group. Having a powerful and effective website and marketing plan can be the key to a new boom in new patients for your chiropractic practice.
Tags:
chiropractic business academy
,
chiropractic new patients
,
get new patients
,
how to get new patients
,
new patients
,
online marketing plan
,
online marketing program
,
online marketing specialist
,
online marketing tools. social media