August 12th, 2010 |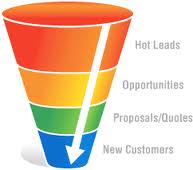 One of the most common problems for any sales professional is finding more sales leads. While paying for sales leads is a direct method to gain business to business sales leads you seek, there are some easy and rapid methods and resources in generating B2B sales leads online.
Lead generation programs are the backbone of sales success, so this has to be a vital part of your marketing strategy and tactics, as your sales force will be ever hungry for more and higher quality leads. Qualified sales leads are gold, so here is a story on where I found a vein of leads that is undying, a constant flow of fresh leads.
A few months ago I had been calling 40-50 potential clients per day, simply to get my contacts going in a new field that I wanted to establish a marketing program for. Not only did I want new contacts, I was also conducting a survey of those I was contacting to discover the issues. These discoveries then became my inspiration for keyword research and many blog posts. I was engaging, selling and learning all the while learning a new way to gain telemarketing sales leads.
I simply went to the internet itself and found all the leads I wanted. In fact, I even established a telemarketing sales patter. I could tell them what page they were on, what their website lack and could give an online, real-time analysis of their marketing success or lack of it. Additionally, classifieds like Craigslist gives you are consistent source of people with needs. I have found companies looking for personnel that needed SEO/SEM assistance. Well, I called them and have offered them my services with success. I become the outsourcing solution to the real-time need that they just featured. Generating a sales lead was accomplished by simply using the internet to locate real-time needs and wants.
Tags:
b2b leads
,
b2b sales leads
,
business to business sales leads
,
generating sales lead
,
generating sales leads
,
lead generation programs
,
qualified sales leads
,
telemarketing sales leads