September 3rd, 2010 |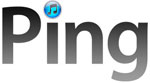 September first brought new iPods, iTV and the newest iTunes 10 – and along with it, Apple's new social network, Ping.
On the surface, it seem harmless enough.  You can sign in and share what music you like, and find friends to follow.  They can in-turn follow you and see what reviews you have written and what albums and music you have marked that you like.
This seems very reminiscent of MySpace Music but without a lot of the customizable "space" of your profile.
And the "Recent Activity" screen resembles Facebook and a prettier Twitter feed.
The only points separating Apple from the Big Three is how much polish is missing.  You can't import or find friends easily, and you can't post or integrate with Facebook or Twitter.
But make no mistake, this is version 1.0 of Ping, and by version 2 you will see market share dropping from MySpace music and Facebook.
If you are a musician, you should have already started to use Ping.  Although it is a little clunky, it will be phenomenal way to spread your music and communicate with your fans.