September 17th, 2010 |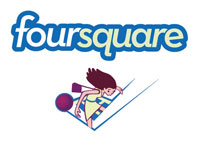 Several interesting social media news items this week.
First was that a case study was just released showing how McDonald's used Foursquare to increase foot traffic by 33%.
Using Foursquare, McDonald's gave away $5 and $10 gift cards to random people that check-in to a McDonald's during that day.
It is common for brands like Starbucks to give away special deals to Foursquare "mayors" (those that have the most check-in's at their location), which encourages people to keep coming back.  Although this is a great way to reward your best customer, McDonald's idea would clearly make it possible to get a reward without checking in to the location twice a day for a month.
Groupon
There was some huge news this week, when a company, Posies Cafe, wrote an article explaining her horrible experience with Groupon.
Although she got a huge inflow of people into her business, it seems she didn't think it through properly and had some rough times.
Groupon wrote on their blog how Posies experience is an anomaly, since most businesses love the experience.   Their point was that Posies could of changed the offer by setting an upper limit, along with a few other changes to make it work.
Either way, the exchange really showed me that while Groupon can be wildly successful, you really have to do the math and make sure the abundance of people doesn't cause your business to implode.