Website Design
Both of these clients had similar problems: Too much of their site existed below the fold of the page.
| Before: | After: |
| --- | --- |
| | |
| Before: | After: |
| --- | --- |
| | |
This client wanted a retro 1950's feel: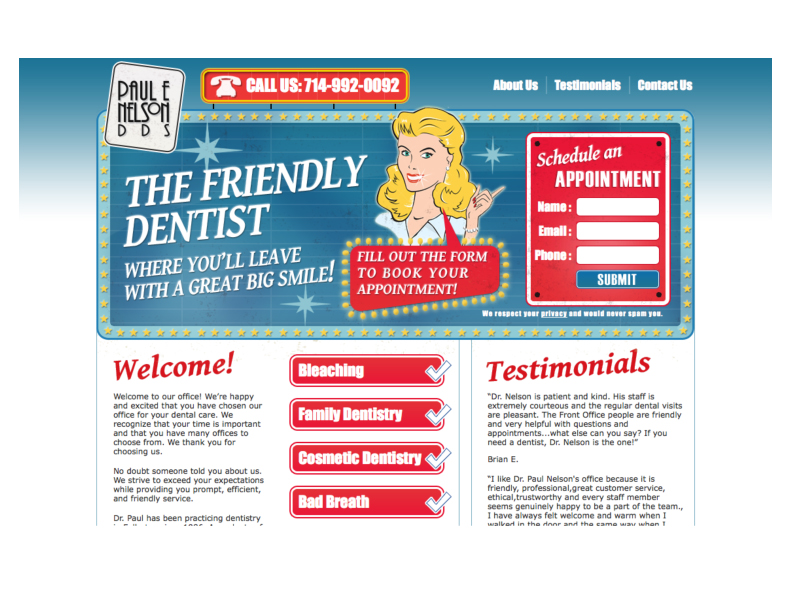 Do you need a website?
Does your website need to be re-done or freshened up?
Do you need a Shopping cart?    A Blog?
McIntosh Marketing can provide you with Website Design Services to satisfy your needs.
But there is a catch!  Yes!
The catch is that we will build you a website that not only looks good but a website that has amazing SEO features built right into it.
We will build you a website that actually does work for you and gets your visitors to take the actions you want them to take.
Answer this question:
"What do you want your visitors to do when they arrive at your Website?"
Getting your visitors to take the actions necessary to become new customers is what we do best.
So no matter the design or layout you may have in mind, McIntosh Marketing will work with you to make sure that you get the most effective and aesthetic website  possible.
Experience has taught us that each business is unique and that each business has a different message to deliver to it's audience. McIntosh  Marketing will do everything possible to design a website that accomplishes the tasks that your business needs.
Your website will be built with state of the art technology that allows you to simply and easily amend and update the site. Keeping your website up to date visually and technologically is simple and easy.
You may never need to build another website! But we will leave that up to you.
For website design and creation please call 877 797 6825 !