April 23rd, 2010 |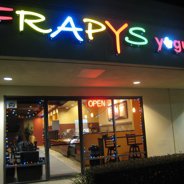 When frozen yogurt went explosive as a business model a few years, some saw that it could go viral as well.
Luis Garcia, CEO of Frapy's Frozen Yogurt in Mission Viejo, has embraced social media as a prime way to reach new customers, while keeping a personal feel with his ardent fans. He mainly uses Facebook and his web site, but tons of personal contact and customer service.
More than that, Luis has established a high-end model for frozen yogurt, insisting on high-end ingredients while staying competitive on price.  Additionally, he has dressed up the shop itself with a comfortable, European feel. Makes sense, as Luis was born in Madrid, Spain. This explains the European feel of live music, parties and hosting social events. Luis has blended a cafe feel with one of OC's favorite treats.
His business model has been so successful, that Luis is now opening a second shop in Lake Forest, CA and has garnered a recent article in business section of the Orange County Register.  Luis's approach to high-end quality and social media is the new business model that entrepreneurs will need to embrace to be successful.
Tags:
Ed Dearborn
,
Edwin Dearborn
,
facebook
,
frapys
,
froyo
,
frozen yogurt
,
luis garcia
,
misson viejo
,
orange county
,
social media
,
web site